What's on Our Shelves?
This week we're moving from dinosaurs and fossils to bones (not such a huge leap). M has been asking a lot of questions about the bones in our bodies, so I thought this would be a fun theme. I'm trying not to get too technical (she's not even 3 yet....), so I split the activities between bones/anatomy/doctor theme and things related to the letter b (I'll update with a link when I get that post done). We also wrapped up a few things from last week's
Dinosaur Unit
.
Practical Life
How do we stay safe?
We spent some time talking about bones in general - why we have bones, what they are used for, and how to grow strong bones. We got a couple of great books from the library about bones that were on just the right level for M's interest (
The Bones You Own by Becky Baines
and
Bones by Stephen Krensky
). We talked about how some bones (like your rib cage or skull) are used for protection. My husband happened to order a toddler-sized hard hat right at the same time that we were discussing this, and it was perfect timing to talk about the importance of wearing helmets.
Dinosaur Eggs
This was a carry-over from last week's
Dinosaur Unit
. The weather was awful, and the humidity kept these fossils and the dinosaur eggs from hardening properly for days.
M used her garden tools (mainly the trowel) to crack open the eggs and find the dinosaur figures inside. We talked about some different ways to crack the eggs open safely (I didn't want her to accidentally smash her hand), and talked about how real paleontologists would need to be extremely careful not to damage the fossils inside of the rocks.
After she had successfully excavated all of the dinosaur remains, she needed to clean the "bones" to send them to the museum. (It helped that we had been reading the book
How the Dinosaur Got to the Museum by Jessie Hartland
, which explained in great detail all of the steps from discovering a fossil to putting it on display in a museum.) She started by carefully brushing the dirt from the dinosaurs with a wet paintbrush, but decided that it would be more efficient to dunk the dinosaurs in the water cup for a quick bath.
Cutting and Gluing Practice
M hasn't shown any interest in this yet, but I think she'll probably give it a try before the end of the week. I took the blank skeleton image from the
Nomenclature Cards
and cropped it into several parts. I added lines and cut the page into two strips (you can copy/print the image below). The idea is that M can cut out the body parts, assemble them into a skeleton, and glue them onto the paper.
Sensorial
Matching Fossils
Like the dinosaur eggs, the fossil impressions didn't dry as quickly as I had hoped. When they were finally hardened, M enjoyed looking at the impressions left by the different ocean creatures and dinosaur footprints. She matched the figures to the impression they made, and compared the imprints on the different fossils.
Visualizing Bones in Color
I printed a
giant life-size (toddler-size) skeleton
(the pdf can be found under the "Activities/Teaching Resources" tab) laminated and cut out the pieces, and taped them together with packing tape. We laid this out on the floor so M could compare the size of the skeleton to herself, see which bones were the largest and smallest, and color the different bones with dry-erase markers. I later taped the skeleton up on the wall with painter's tape so she could continue to go back and color it whenever she wanted.
Dancing Bones
M absolutely loves to dance, so of course we had to talk about how bones and the joints between bones allow her to move her body in different ways. I printed, laminated and cut out this
mechanical skeleton
. I punched holes at each of the joints, and showed M how to use brads to attach the bones together to build her mini-skeleton. She had a blast moving his arms and legs so he could dance with her. Her "buddy" has been on several car rides, and conveniently "bends" to fit into her purse!
Mystery Bag
In an effort to get into more of a "
rhythm
" with our days, I tried incorporating a form of "Circle Time" to get us started after breakfast. We looked over the calendar, talked about the weather, and then pulled out some objects from a bag so M could try to figure out what we would be exploring. Obviously this "guessing game" will only work at the beginning of the week (assuming I stick to the same theme for a whole week as I plan to). I'm hoping to continue rotating out objects, and she can try to guess what the objects are (like a
Mystery Bag
).
Here she had pulled out Skeleton Nomenclature Cards and a dog bone from the "Mystery Bag."
Language
3-Part Cards
I downloaded these free
Skeleton Nomenclature Cards
from Montessori Workjobs. I backed the cards on colored paper and laminated them. I didn't back the last set of cards I made (dinosaur cards), but decided that these will probably (hopefully?) get used again when M is older, so I wanted to make this set a little nicer and more durable.
So far, M hasn't shown much interest in actually using the 3-Part Cards, except to flip through them and look at the pictures. I attempted a
3 Period Lesson
with a few of the more basic cards (skull, rib cage, hand bones, etc.). She liked the second phase - pointing out the bones when I asked - but lost interest when I asked her to name them back to me.
I read through the list of
Seven Ways to Use Classified Cards
from Montessori Print Shop, and decided that an "I Spy" type game would be fun. She enjoyed this a lot more than the traditional 3 Period Lesson or matching the cards. We set out her Mechanical Skeleton and a pile of the labeled nomenclature cards. She would look at the picture, I would say the name of the bone she was looking for, and she would point to that bone on her skeleton (and sometimes on herself too).
Math
Doc McStuffins Graphing
Doc is second only to Mickey in this house, so M was ecstatic that I found some
Doc McStuffins-themed printables
for this week. This is the same counting/graphing activity that we did last week with
dinosaurs
, but I switched up the counters and the new characters were enough to keep her interested.
Tracing Shapes
The
Doc McStuffins Tot Pack
from 1plus1plus1equals1 also had this shape tracing printable. M hasn't shown a lot of interest in tracing shapes or letters yet, but she likes to name the shapes and count the number of sides and corners to compare different shapes. The fact that this had Doc McStuffins characters guaranteed that it would get used at least a little.
Linking Up With:
Montessori Monday Link-Up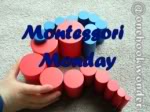 Hip Homeschool Hop
Weekly Kids Co-Op